Subway has arrived in our corner of France much to my and my other half's delight! It's pretty much like back home right down to the white chocolate macadamia nut cookies! YUM! We will definitely be patronizing it as much as possible because we want it to stay!
In cuter news, I received a lovely package from
Pimiento Negra
containing a lovely scarflet, a wonderful, muliti-colored scarf, a pompom ring, a cute-as-2-button glasses case and some beady supplies. She is such a sweetheart! Really made my day!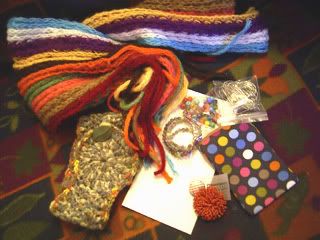 Everything is much lovelier than the photo.
I need to get her stuff mailed off soon. Hope she'll like it as much as I like mine.