I was hoping to join some cool, crafty-type communities only to find that there aren't any here on blogger. :( Well, unless I missed something???
Seems they are at livejournal. I decided to open an
account
there so I can join in on all the cool goings on, but my blog stays here. We'll see how long I last before I start pulling my hair out. ;)
Spicey Creations
got an update today.
Lots of new pretties, but I think these are my fave: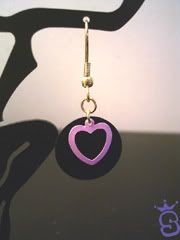 I call them
60s Mod Heart Earrings
! If you want to know what I'll be sporting on Vday, it's these in silver. I just put them up and there's only 1 pair left. Wondering if the last pair will find a home today as well or will they linger long after Valentine's Day is over?
I am also working on my
Sampler
contributions at the moment. Just finished up some custom orders. Gifts, so SHHHH!
Also, working on ATCs for a possible swap. Hopefully, tomorrow I'll be feeling creative. :)