I got this lovely bouquet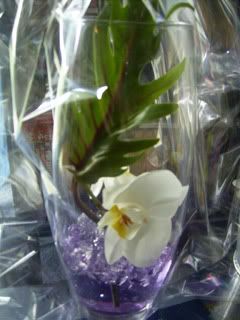 along with a card and some Valentined theme scratch-off lotto cards.Yes, those are my guilty little pleasure. I do win a couple Euro on occasion though nothing to write home about!
My other half came home a bit early and we went out to a nice, Lebanese restaurant that was recommended to us by my mother-in-law. The decor was beautiful. They had these hand-embroidered tablecloths that I would have love to have at home! The service was exceptional. The food was SO good. Unfortunately, I can't really remember the names of anything we had apart from the chawarma chicken. I'll have to do a search on it to see if I can find anything that looked familiar. I do remember seeing falafel and fattoush (sp?) which I *think* are pretty well-known? I don't know much about middle eastern foods, but my other half and I are always up to trying something new.
In other news, I finally managed to get something made and mailed off to donate to
Crafters for Critters
. Go and check out the site! They are having a big sale and it's for a great cause! If you miss out, not to worry, there'll be a whole slew of other goodies available in April.