Well, my 60s Mod Heart Earrings are sold out, but I have lots more heart themed things available
here
. All the heart jewelry, mostly custom orders, sort of got me in the spirit of Valentine's Day.
So I decided to send out Valentine's to all my close, single friends. You know, that's when I realized I only really have 1!!! The others are married or in serious relationships. Isn't that strange that I never really thought about it?! Oh, well, she gets a card and maybe a li'l gifty. :)
This brings me to another topic. My other half and I always get dressed up and go out to some fancy schmancy restaurant for Valentine's Day. We got a recommandation for this supposedly great restaurant and have been trying to reserve for the past week. These people like never answer the phone. You'd think they'd want the business. We know it's the correct number because it came off a business card taken from their establishment on New Year's Eve! I've tried calling as all different times with no luck. The phone just rings and rings! There's not even an answering service. I suppose I'll give up and try somewhere else. Man, that irks me!
Speaking off my other half, here's a not-so-great photo of him to compare with the avatar he made for himself: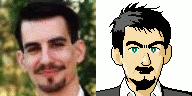 Scary, eh? You can make your own by clicking
here
Other "news":
Here's a cool mother of pearl pin, I bought for my mom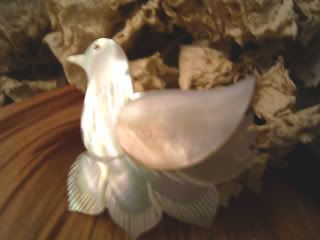 She's recently gotten into vintage and vintage-style pins. I'm so proud that I was able to clean this one up: it had a couple of spots and the nacre was a little dull. A little gentle cleaner and water did the trick. This is one of those times I wish I had taken a before picture. Oh, well, too bad the photo doesn't do it justice. It's really very lovely!
Here's an ATC that I made this weekend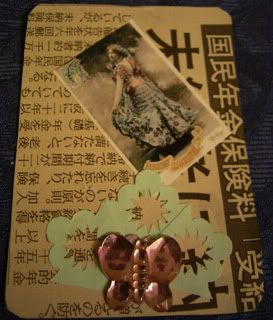 It's the first one I've made in awhile. The lady was from an envie in the Wings issue of
Material Zine
. I haven't been feeling that inspired lately. I think my muse may be off playing in someone else's yard. :|