My darling other half has been trying to convert me to Linux. I think he senses my frustration and that I've had about all I can take from XP! He's offered to get me a Linux CD so I can boot up in Linux to test it. Well, he did convert me to Mozilla after all so maybe Linux will be okay? Oh, sometimes change is good. Guess we shall see, eh?
This has been a busy, busy week! I managed to get everything done that I needed to get done and also be a bit creative on the way.
Today, I added some pretties over at
Spicey Creations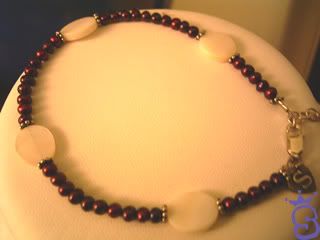 I've been trying to get a decent pic of this mother of pearl and cranberry pearl bracelet for ages!
I also got these cool buttons and made this for myself (ignore messy chignon):

Oh, and I managed to get the first batch of zines mailed off on Friday. They are now winging their way off their destinations. I now have to do a second printing as I have a couple more requests. Hopefully, get those all done next week. YAY for zine-y goodness!
I was craving homemade chocolate chip goodness and not being able to go out and buy some, I had to resort to making my own: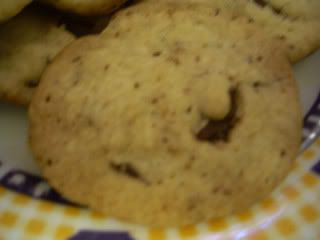 They alot more chunkalicious than the photo suggest. Dangerously so, in fact!